Algorab: The Neglectful Village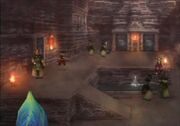 Algorab is one of two villages in Duhr. It is home to Krumly and other Children of the Earth. All who live in Algorab wear masks. Whenever visitors come without masks they are met with high levels of curiosity (as the team in Origins was).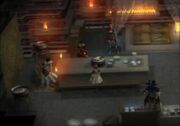 In Baten Kaitos Origins it is the first village visited. You learn about the Godcraft and other minor things about the Children of the Earth. While not extremely apparent, there are hints of the Children being fed up with living under the Taintclouds.
In Eternal Wings it is shown as a major supporter of moving to the Sky and is where Malpercio is fought for the first time. After Malpercio is defeated the Children do move to Anuenue.
Community content is available under
CC-BY-SA
unless otherwise noted.