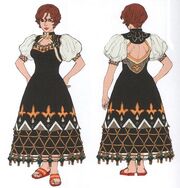 Feisty Indeed
Anna is an NPC who appears in Baten Kaitos Origins and Baten Kaitos: Eternal Wings and the Lost Ocean.
Early Life
Edit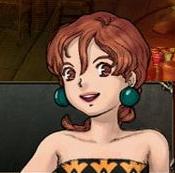 Anna was the child of the bar owners in Nashira of Diadem. There she was friends with Gibari and Reblys. Even at a young age she thought the muscular but brutish Gibari was a dream come true. This, of course, was known by all, even Palolo II. Reblys however had a crush on her. Growing up she spent her days working in the family tavern and hanging out with the boys. She eventually grew into quite the tom boy and adventurer in her own right. At the age of ten she even met Sagi, Milly and Guillo on their adventures.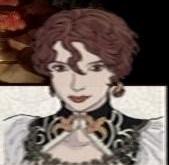 She shared many of the superstitious beliefs of her people and grew to admire Gibari as they became adults. She had a brief encounter with
Kalas
and
Xelha
on their own adventures to save the world and even journeyed to the greater celestial river to get some sea weed to cure a young boy. All the while she drew concern from
Reblys
and
Gibari
, one she still refused and the other still oblivious to her longing.
Community content is available under
CC-BY-SA
unless otherwise noted.