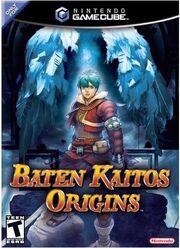 Baten Kaitos is a series of role-playing video games for the Nintendo GameCube and various other media tie-ins published by Namco Bandai and Nintendo. The series was conceived by co-designers
Yasuyuki Honne
and
Hiroya Hatsushiba
and developed by their respective video game development studios,
Monolith Soft
and
Tri-Crescendo
.
The Baten Kaitos series takes place in a world where humanity lives on a series of island-nations in the sky. These islands are the last livable remnants of a poisoned Earth that was devastated a thousand years ago in the War of The Gods. The residents of the sky however are prosperous having been aided by various advantages, including Wings of the Heart- the manifestation of the human spirit in the form of usable wings-, Magic, Magnus- a technology that allows the essence of an item to be stored within small card-like objects-, and Machina- mechanical technology. Their way of life however is in danger as the ancient Gods power begin to return and threaten the world.
Games in the series are Baten Kaitos Origins and Baten Kaitos: Eternal Wings and the Lost Ocean with a cancelled Baten Kaitos for the Nintendo Ds.
It is unknown what form the series will take as Nintendo has moved on to its new system the Nintendo Switch and Nintendo 3DS.
Trademarks
Edit
Found in both games of the series are vividly painted pre-rendered backgrounds, card based "magnus" battle systems, and plot twists regarding the nature of the antagonists.
Community content is available under
CC-BY-SA
unless otherwise noted.