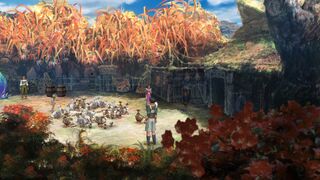 Cebalrai, the farming hamlet, is a small village in
Sadal Suud
. Cebalrai is famous for its mountain apples, mountain apple wine, pow milk and pow meat.
In
Baten Kaitos Origins
,
Sagi
,
Milly
and
Guillo
go to Cebalrai for the first time following
Lord Rodolfo
, after seeing that he was not in
Pherkad
. There, they found him talking with
Heughes
about "promachinating" the village and Sadal Suud, a proposition that Rodolfo accpets at first (for a considerable amount of money), but later regrets and refuses.
Eternal Wings
Edit
In Baten Kaitos: Eternal Wings and the Lost Ocean, Cebalrai is the place where the game is started. At the very beginning of the game, Meemai finds Kalas unconcious in Moonguile Forest and takes him to Doctor Larikush in Cebalrai. This is also the place where Kalas and Xelha meet for the first time.
Residents
Edit
Surayj (after showing her the Family Tree, she moves to Pherkad)
Maynee
Aljeemo