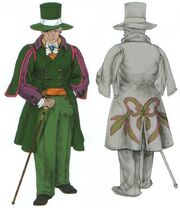 Little is known of the early years of Duke Calbren, except he is the latest in a long line known as the duchy of Mira. He has extensive knowledge of the End Magnus, along with its powers and potential. He also is the guardian of the End Magnus of Mira and tries very hard to protect it, so as to not cause any further harm to Mira as his ancestor did. He is also in possession of the Earth Sphere given to his bloodline by the Children of the Earth.
New family
Edit
At the end of Baelheit ambitions, which left all islands except Mira in a bad shape, he accepted Sagi and Milly into his home on their honeymoon. He grew to love them dearly and they became a family with him, even making them members of the duchy of Mira. Time went on and they enjoyed their life of peace for 5 years. They soon had a daughter, Melodia, who Calbren made his granddaughter and the person to take over the care of Mira when he was gone.
Tragedy and Betrayal
Edit
Soon tragedy struck, and Milly and Sagi died in a plague. As Melodia laid dead, he was overcome by grief and resurrected her with the power of the End Magnus. Happy to have her back, he and Melodia lived together until she sieged Alfard and resurrected Malpercio.

To Save his granddaughter
Edit
He spends the rest of the story wishing for Melodia's safe return and pleading with Kalas to save her. He confronts her at Cor Hydrae, only to have her fuse with Malpercio. Despite this, she is eventually saved and he is overjoyed. He celebrates with our heroes at the end of the journey and forgives Melodia for everything she has done.
Community content is available under
CC-BY-SA
unless otherwise noted.