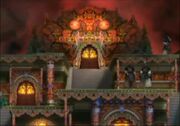 Gemma, the observant village, is a place located in
Duhr
. This village, along with
Algorab
, is inhabited by the
Children of the Earth
, the race of humans who decided to stay in the earth after the
War of The Gods
. People here wear masks and float instead of walking thanks to their great magical abilities (although their current powers are nothing compared to the Children of the Earth 1,000 years before). They are optimistic and got used to their lives under the
Taintclouds
, unlike the people of Algorab. Two leaders of Gemma have been shown: The
Great Kamroh I
in
Baten Kaitos Origins
and The
Great Kamroh II
in
Baten Kaitos: Eternal Wings and the Lost Ocean
.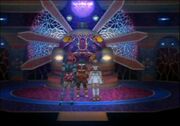 The party gets to
Duhr
in request of
Guillo
, beacuse he thinks that the land of the Children of the Earth may have the answers about his life.
Krumly
in Algorab directs them to The Great Kamroh I in Gemma, who is surprised at seeing Guillo and showes them
Seginus
, the supposed last
Godcraft
. The party gets "sucked" into Seginus, where they get a series of flashbacks about the Godcrafts and the War of the Gods, giving Guillo an answer about his existence. After these events, The Great Kamroh I gives his son, Kamroh II, the leadership of Gemma, and goes on a quest for sealing Seginus' power.
Eternal Wings
Edit
After exiting the Labyrinth of Duhr, the party goes to Gemma, where they meet Kay and Koh, Mizuti's parents and Kee, Mizuti's friend, and learn more about Mizuti's mysterious powers (they also learn that Mizuti is a girl). They also meet The Great Kamroh II and ask him for help in defeating Malpercio. He tells them about the Sword of the Heavens, a holy artifact that could defeat Malpercio. The party then leaves to Capella, the garden of death, in the search of the Sword of the Heavens. After Malpercio's attack to Duhr, most of Gemma's inhabitants depart to Anuenue, though there were some who preferred to stay.
Residents
Edit
Mizuti (before departing to the sky)
Community content is available under
CC-BY-SA
unless otherwise noted.