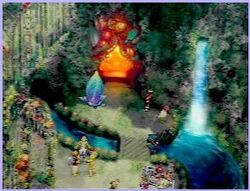 Komo Mai, the city of flowers, is the capital of Anuenue. The people in Komo Mai are festive and laid-back and sometimes even oblivious of the problems in the world. Once every thirty years, when The Celestial Tree blossoms, the people of Komo Mai hold a huge festival in which everyone dances in the streets and adorn the city with colorful flowers and ornaments. Komo Mai is also famous for the School of Magic, destination of students from all around the world, and Queen Corellia's Palace.
Sagi, Milly and Guillo arrive at Komo Mai after exiting the Holoholo Jungle, where the Sfida crushed. They go to Corellia's Palace in behalf of Quaestor Verus, who is asking for help in other nations in fighting against promachination. However, Corellia refuses to cooperate, as Anuenue had always stayed neutral in foreign matters. Knowing that they won't convince her, Verus tells Sagi that they should go back to Alfard. After a brief visit to the School of Magic, they get back to Holoholo Jungle, hoping that the repairs in the Sfida are finished.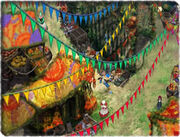 Kalas and his friends get to Komo Mai carrying a letter for Queen Corellia from King Ladekahn, asking for help at stopping Emperor Geldoblame's ambitions. They explain the situation to the Queen, but they are surprised when Geldoblame, accompanied by Folon, interrupts the conversation. He says he is in Anuenue just for vacations, while in reality he is looking for a way to destroy the magic barrier protecting the continent, to enable him to obtain the End Magnus. After denying all the accusations, Geldoblame gets back to Alfard, understanding that he can't make a direct attack to Anuenue as he did in Diadem and orders Folon to kill Kalas. After Geldoblame leaves, Corellia states that she can't help for the sake of keeping Anuenue's neutrallity. However, the group decides to look for the End Magnus without the Queen's help and depart to the Ancient Libray of Magic in their search for clues.
kom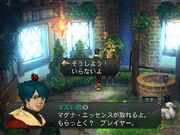 After Malpercio's revival and the apparition of Cor Hydrae, the leaders of the world gather in Komo Mai for joining forces against the forces of evil. Also, most of the Children of the Earth temporarily stay in Komo Mai after Malpercio's attack to Duhr. At the end of the game, when the continents return to the Earth, a big party is held in Komo Mai.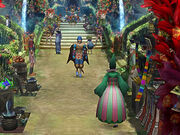 Trivia
Komo Mai is derived from the Hawaiian phrase, "E Komo Mai" which translates to "Welcome".
Community content is available under
CC-BY-SA
unless otherwise noted.