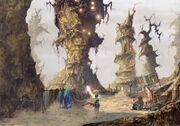 The Mad Wolf Unit is a group of elite soldiers at the service of the Alfard Empire. Trained to be efficient and brutal killers, the group is the successor to The Dark Service, created by Emperor Geldoblame for the specific purpose of wiping out any who would oppose him and his laws. The Unit is infamous for its cruelty, showcased particularly in the massacre during the Azha uprising between the events of Baten Kaitos Origins and Eternal Wings.
Members
Community content is available under
CC-BY-SA
unless otherwise noted.