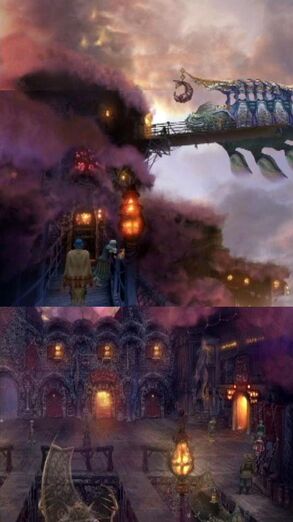 Nashira, the fishing village, is a town located in Diadem. People in Nashira are expert fishers, they fish in the Lesser Celestial River. The people here are very close, but they are highly superstitious, to the point that they don't take outsiders in their boats because it is considered bad luck. Nashira also has a bar, where people gather to have a good time. It even has a port, where liners from Pherkad arrive.
Sagi and friends arrive to Nashira following King Ladekahn and Gibari. At their arrival, they discover that the village was taken over by Imperial Soldiers sent by Baelheit for promachinating Diadem. The king and Gibari are taken prisoners, and so the heroes. At their prison they meet Palolo II. Working together, they flee and get back to Sheliak.
Kalas and Xelha arrive to Nashira escaping from the Imperials in Sadal Suud. They plan to go to Sheliak for warning King Ladekahn about the End Magnus and Emperor Geldoblame's ambitions; but they can't get through because the Lesser Celestial Rivar is flooded and so, the Cloud Passage is blocked. That's when they meet Gibari, who takes them in his boat to the river (to the dislike of Reblys). They succesfully make the river come back to normal, but when they get back to the village, they're surprised to see that the Empire took over it. Using a secret passage in Anna's bar, they exit the town in their way to the Caste Town, Sheliak.
Rambari (before becoming head knight)
Maymun (after signing the Family Tree, she moves to Pherkad)
Community content is available under
CC-BY-SA
unless otherwise noted.