Outer Dimension Minigame is the name given to minigame that takes place en route to Mira that must be completed for Kalas and company to proceed, as well as the sidequest aspect of it in Baten Kaitos: Eternal Wings and the Lost Ocean.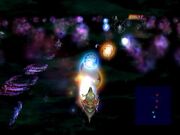 The Mindeer has fallen out of the Trail of Souls into the Portal to an Outer Dimension, stranding Kalas and company. Mizuti shows up on her boat from the darkness and guides the group Mira. The player must pilot the Mindeer, making sure not to fall too far behind Mizuti, and may shoot down or engage enemies along the way.
The Mindeer can be steered using the Control Stick, be made to strafe left or right using the L or R Buttons, and can fire at enemies using the A Button. There are thirteen waves of enemies and if every enemy in a wave is shot down, a Magnus will be dropped which can by claimed flying over it. If all enemies are not shot down, a battle against some combination of Ghost Claws and Zelmers will initiate.
The enemy groups and their reward are listed as follows:
| | | |
| --- | --- | --- |
| | NOTE: The title of this article, Outer Dimension Minigame, has been decided upon by the Baten Kaitos Wiki editorship and is not officially used in any Baten Kaitos media. Not true? Remove this template! | |
Community content is available under
CC-BY-SA
unless otherwise noted.