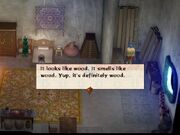 Quzman's Family Tree is a major sidequest in
Baten Kaitos: Eternal Wings and the Lost Ocean
. Started early in the game, the goal of the quest to fill out the family tree of a 100 year old
Pherkad
resident named
Quzman
by tracking down his family members scattered throughout the world. Quzman, the patriarch of the family, gives you the
Family Tree
as a quest magnus to be signed by his relatives. Everyone in Quzman's family wears a specific kind of bracelet that helps distinguish them from other persons.
Family Members
Edit
In order of likely signing:
Magnus are awarded for each bloodline completed as well as the entire tree.
Community content is available under
CC-BY-SA
unless otherwise noted.