Rasalas is a village located between the
Albali Sandhollow
and the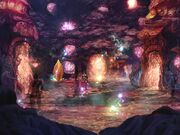 Sandfeeder's Nest
. It's houses look like they've been carved into trees or rocks, it has a small puddle in the middle and it has some strange yet beautiful lights floating all around it.
Rasalas is the first town visited by
Sagi
in
Marno
's flashbacks to the
Age of the Gods
. When Sagi and the siblings arrive there, all the people were already forcibly turned to Magnus by
Wiseman
.
Connection with Nekkar
Edit
Probably when the continents rose into the sky, Rasalas became the Nekkar Quietlands, as when the heroes visit Nekkar, they see the ghosts of the people of Rasalas. Further proof is that while visting Rasalas one of the villagers mentions that it is the only place that firemoss can be found. It isn't actually found then, but in the present it can be obtained.
In one of the homes of the past, a father will ask Sagi to help name his newborn. The newborn is in the back of the home with its mother, who happens to be crying because her child will never grow up. If you help name the baby, when you return to the present and finish Milly's quest in the Nekkar Quietlands, the ghost family will thank you and will call the child by the name you helped choose.