Sheratan, The Ageless Village, is home to the worlds most beautiful wings and an orphanage for homeless kids. It also has an abundance of sheep and farming is where their livelihood comes from.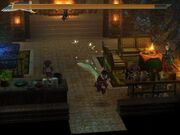 The site of the battle between Valara and Sagi where she uses her Machina Arma: Razer to cut off a piece of the island and kill one of Malpercio's Afterlings. It is also the site that at one point was Cujam the stronghold of Wiseman during the Age of the Gods.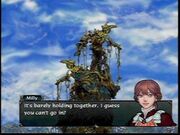 The Brierclock is a tall and very old tower in Sheratan, covered by briers, hence the name. The kids in Sheratan usually climb the Brierclock for fun.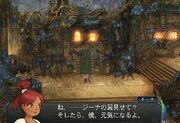 It is shown in Marno's flashbacks that the Brierclock was built more than 1,000 years ago, before the War of the Gods. It was a tall tower with a clock in the top located in Cujam, the hometown of Wiseman. People in Cujam used to jump from the top of the Brierclock without using thier Wings of the Heart as a test of courage. After the War of the Gods, when the Earth becomes polluted and the continents rise to the sky, Cujam becomes Sheratan in Hassaleh, and the Brierclock stays in its place, slowly getting covered by thorny plants.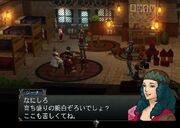 Later in the game, Sagi uses the Brierclock as a trigger for releasing Marno's memories, and thus, travelling between his age and the Age of the Gods at will.
As most locations in Baten Kaitos, the name Sheratan is the traditional name of a star: Beta Arietis,a star in the constellation of Aries. The name is derived from the Arabic expression "Al-Sharatan" which translates to 'the two signs'. It is a reference of the star marking the northern vernal equinox together with Gamma Arietis several thousands of years ago.
Community content is available under
CC-BY-SA
unless otherwise noted.