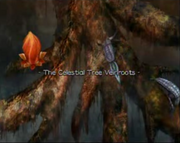 Literally the massive roots of the Celestial Tree. Massive and labyrinthine. It house great power as the nourishment and life of the celestial tree originates here. It is also home to the celestial tree fell branches which house great power and are super dense, comparable to the empires Machina.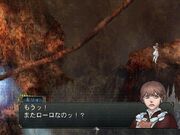 Sagi and company journey to the The Celestial Tree to get the fell branches needs to repair their ship the Sfida. Once there they realize the empire plans to Promachinate the Celestial tree starting with the roots. They journey into the vienroots where they find meet with Shanath and Valara, who are ripping off the people's Wings of the Heart. Then, they fight an afterling implanted in the tree itself. Although they can't defeat Valara's Machina Arma, they find the fell branches they need.
None, our heroes only visit The Celestial Tree.
Before entering the boss room, Sagi can move a little more to the left where there is a secret room full of dried skins in the shape of Queen Corellia.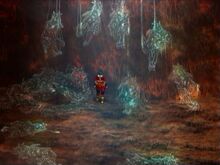 Community content is available under
CC-BY-SA
unless otherwise noted.