Yasuyki Honne (born March 5, 1971) is the working name of video game artist and designer Nemoto Yasushi, known for being one of two co-creators of the Baten Kaitos series along with Tri-Crescendo's Hiroya Hatsushiba.
For years Honne worked for Square creating art for such games as the Chrono series and Xenogears. Upon the formation of
Monolith Soft
in 1999, Honne joined many of his fellow Chrono Cross and Xenogears team members to work for Monolith Soft. It's there that he designed and illustrated the two Baten Kaitos games. Since then, he has led the DS adaption of Dragon Ball Kai as well as created concept models for Tetsuya Takahashi's Xenoblade.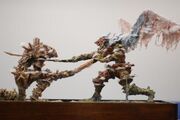 He is currently working on an undisclosed project whose art shares a similar style with that of the Baten Kaitos series.
Yasuyuki Honne maintains a personal blog featuring art, music and other musings, he calls DUENDE as well as a Twitter account.